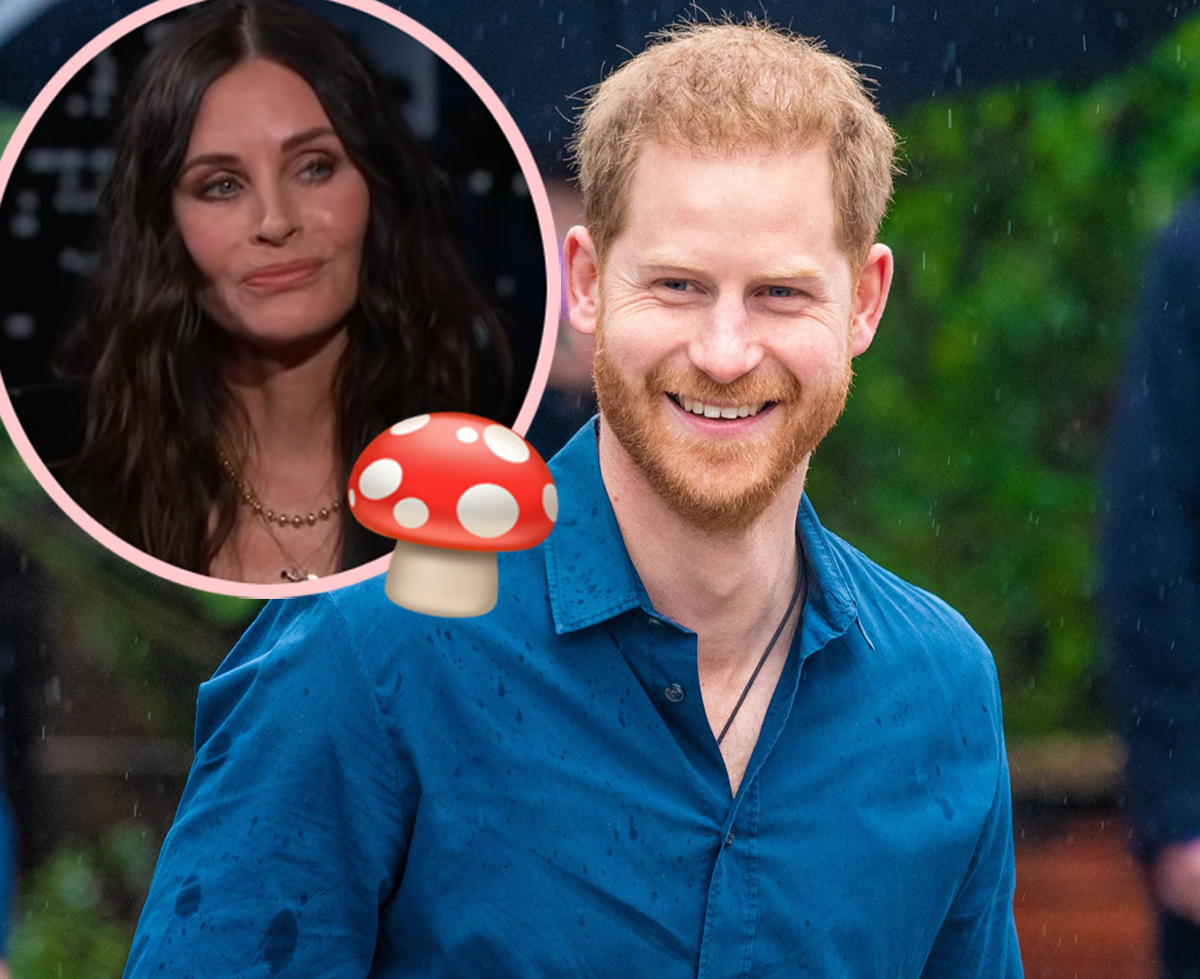 Prince Harry will never forget the wild night he spent at his celebrity crush's house!
As you know, excerpts from the 38-year-old's memoir, Spare, have been dropping ahead of its release on January 10, revealing some juicy details about his life. We've heard everything from a shocking physical altercation with his brother Prince William to his regret over watching his wife Meghan Markle's sex scenes in Suits, and so much more. In the latest sneak peek, Prince Harry is recalling a party he had at his celeb crush's home. Who is this person, you may ask? None other than Monica Geller, AKA Courteney Cox!
Related: Prince Harry Spoke To The Ghost Of Princess Diana Through A Psychic
According to Us Weekly, the Duke of Sussex wrote in the book that he attended a party at his friend Thomas' girlfriend's home — and they ended up at the Friends alum's place in Los Angeles. At the time, he was told Courteney was "traveling, on a job, and didn't mind if we crashed at her place." And for his part, Harry was very happy about the accommodations since he was a "Friends fanatic" and the "idea of crashing at Monica's was highly appealing. And amusing." More than that, he also confessed to having a major crush on the Scream star! Sadly for him, she wasn't going to be there — or so he thought!
During the night, Courteney ended up coming home, leaving Harry "very confused." But rather than kicking the group to the curb, the generous actress told them there was "plenty of room" in her home for everyone to stay. The Better Up CIO explains:
"I was still confused because she was Monica, and I was a Chandler. I wondered if I'd ever work up the courage to tell her. Was there enough tequila in California to get me that brave?"
Apparently not! From there, a wild party broke out in Courteney's home. And instead of telling the Cougar Town alum he liked her, Harry — who was "into my third or fourth tequila" — came across "a huge box of black diamond mushroom chocolates" that was "for everybody" and took a bunch:
"My mate and I grabbed several, gobbled them, washed them down with tequila."
After consuming the mushrooms, Harry began to trip hard — and remembers being obsessed with the trash can with a foot pedal in the bathroom, which suddenly appeared as a "head" to him:
"I stepped on the pedal and the head opened its mouth. A huge open grin. I laughed."
LOLZ!!!! While Harry seemed to be having a good time, one of his friends, on the other hand, was having a very bad experience! The Archewell founder recalled that the pal flipped out at one point because he thought his puffer jacket was a dragon. OMG! Harry writes in the book:
"My delightful trip had been his hell. How unfortunate. How interesting."
This sounded like a crazy night, but we cannot believe Harry never told Courteney about his crush on her back then! Who knows what could have happened?! Is this how she'll find out about that for the first time??
Reactions, Perezcious readers? Would YOU be able to make a move with your celeb crush? Let us know in the comments below!
[Image via MEGA/WENN,Jimmy Kimmel Live/YouTube]